Another month, another Black-owned business! I felt like January was THE PERFECT time to share one of my favorite Black owned guided journals with you all, so I was super excited to chat with Nya Jones, the owner of Inside Then Out about the best best self-improvement tools for 2021 and, of course, her Better Every Day Journal. I originally connected with Nya on Instagram and ended up featuring Inside Then Out in a Black Owned Gift Guide I created for the holidays. With folks continuing to spend more time indoors (thanks, COVID) self-improvement has been and will continue to be the name of the game as we move through 2021, so I knew I wanted to feature Nya and her guided journal as part of my January Black Owned Business of the Month feature.
If you're new to the self-improvement space, the terms self-improvement and personal development may seem a little vague, but I loved how Nya broke these larger-scale ideas down into bite-sized nuggets and actionable tips that we can all immediately put to use in our everyday lives. Nya was such a treat to chat with; whether you're a newbie or you're experienced in the self-improvement arena, you're definitely going to want to listen!
**More info on our sponsor, Lisa's Maker Space, HERE**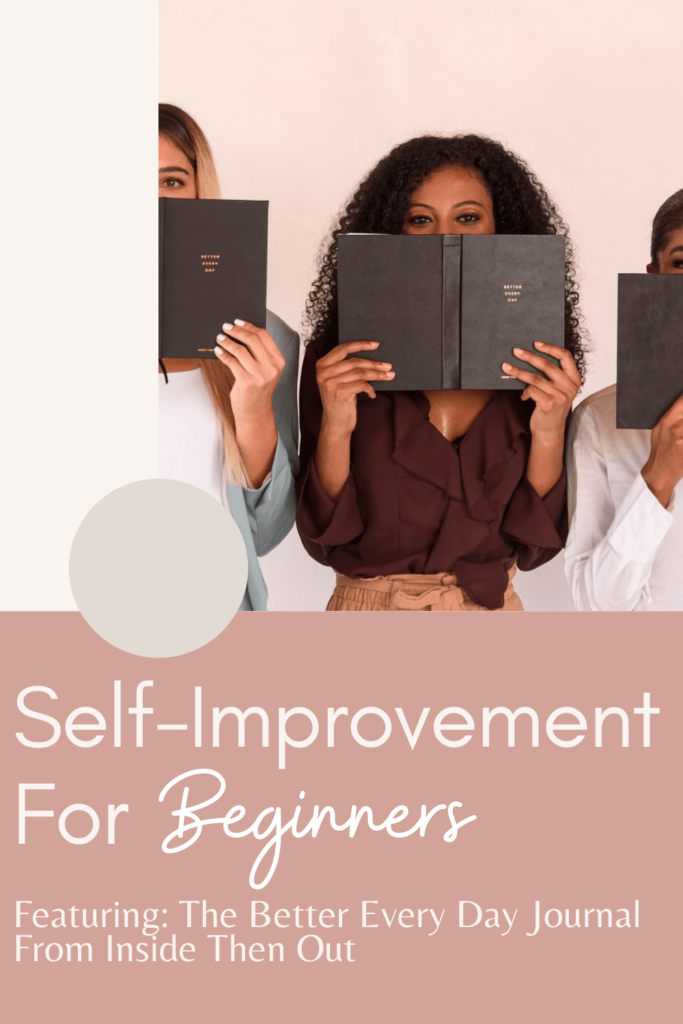 As an Amazon Associate, I earn money from qualifying purchases made through some of the links provided in this post. See my Disclosure Policy for more information.
IN THIS EPISODE, WE DISCUSS
Nya's personal self-improvement journey
Easy, actionable tips for beginners in self-improvement
Best tools for self-improvement and personal development
Journaling as a form of manifestation, and Nya's own, super-cool experience with the practice
Journaling as a form of self-care
What's next for Inside Then Out in 2021
New Year resolutions: yay or nay?
******************************************
RESOURCES MENTIONED IN TODAY'S EPISODE
********************************************
MORE ABOUT MY GUEST
Nya Jones developed the concept for her Better Every Day Journal after she examined her own self-improvement journey and saw a need for more consistency and more intention with her process. When she noticed a lack of diversity in the self-improvement industry, Nya decided to create the journal she would want for herself.
Today, the Better Every Day Journal is one of the best Black owned guided journals out there. It features a beautifully designed Black textured Vegan leather cover and contains 365 (YES, 365!) prompts designed to inspire, uplift, and encourage with themes like self-awareness, love, passion, and personal growth.
********************************************
CONNECT WITH NYA
Instagram @InsideThenOut
Facebook: Inside Then Out
CONNECT WITH ME
Instagram: @itsbritney24
Facebook: All Day Britney
YouTube: All Day Britney
If you enjoyed this episode, check out another profile I did with Jason Johnson of Ezy Eyes, and be sure to check out my Black Owned Business Of The Month tab on All Day Britney for previous features!
********************************************
BLACK OWNED BUSINESS OF THE MONTH INITIATIVE
I started the Black Owned Business of the Month feature as another way to highlight Black owned businesses and share them with my readers and listeners. It's so important to sow back into our community whenever possible, and it's equally important to shout out our businesses as loudly and as often as we shout out other brands and businesses. Check the Black Owned Business of the Month section each month for new features and profiles with both new and established Black businesses and brands!
If you are a Black business owner and would like to be featured, please send an email to [email protected]
**Want more Black owned business reviews and recommendations from customers just like you? Join our Black Owned Spotlight community**
********************************************
All things lifestyle & family, plus tons of Black owned business features and round-ups! www.AllDayBritney.com
Did you enjoy this episode of TRIBE Culture LIFE? If so, I would really appreciate a rating and review(: And feel free to come find me through any of my socials listed above and tell me your favorite parts!
********************************************
Where Else Can You Listen To TRIBE Culture LIFE?
Apple| Spotify | Amazon | Google Podcasts| TRIBE Culture LIFE
Need more TRIBE Culture Life? Hit that SUBSCRIBE button or join my tribe below!