In today's episode, I discuss finding yourself as a mom and giving yourself permission to pursue your passions outside of motherhood with Allyson A. Robinson with the Hey Girl, It's Allyson podcast. This episode was super important; as parents, we're always trying to find that balance between being present for our babies while also honoring our own interests and pursuits. Do you struggle with work life balance? Or maybe you're like me, a SAHM trying to balance mom life while also making time for the activities that make you happy and whole. If any of this sounds familiar, I think you'll really enjoy today's episode! FULL SHOWNOTES HERE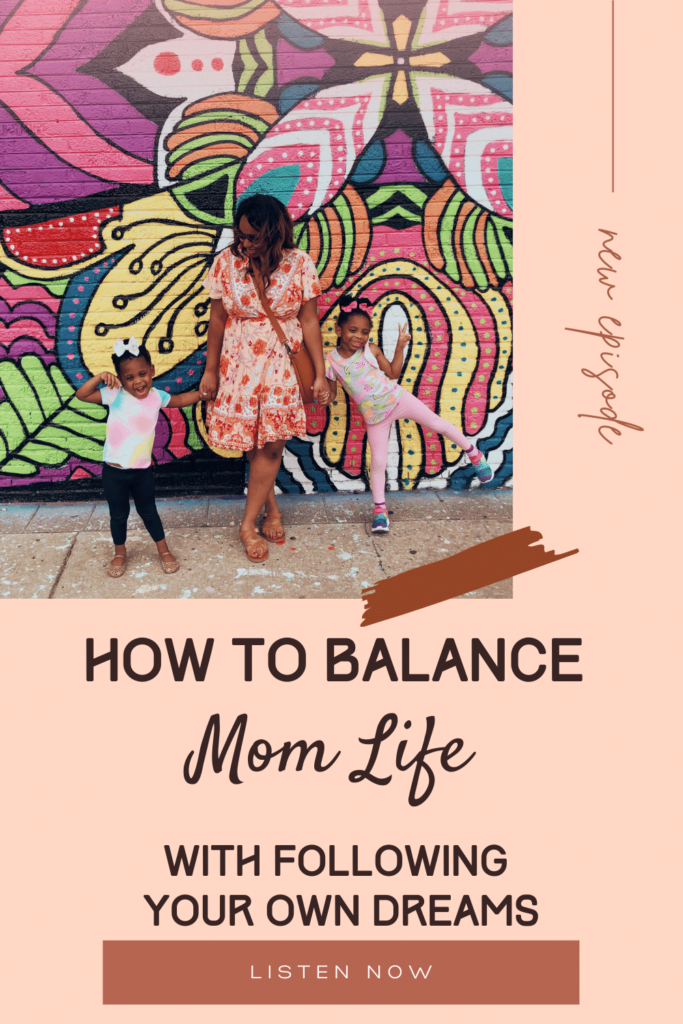 If you follow my blog or have connected with me on any of my socials, you may notice I've been a little quiet lately. One of the reasons I was so excited to share this episode is because I'm LITERALLY living this life as we speak. At the beginning of this year, I had so many plans and goals for the blog and this podcast, and it's been difficult reconciling everything that I want to accomplish with homeschool and the process of raising the kids in general. Hubs, of course, is a huge help, but mom guilt is so real, ya'll! I went back and listened to my chat with Allyson a few nights ago, and as I was taking notes, there were so many little gems that I felt I could apply to my life right now. In the episode, you'll hear me tell Allyson "I feel like you're talking directly to me" and that's still true today. I hope you'll feel the same! Anyway, all that to say, if you're working on finding yourself outside of motherhood, I know you'll get as much as I did out of today's chat!
IN THIS EPISODE, WE DISCUSS
Allyson's background in education and how that informed her journey
Allyson's decision to transition into staying at home with her twin girls
The importance of setting an example and sharing your passions and/ or career with your kids
Time-blocking and finding pockets of time to hit small goals
The ongoing journey of finding yourself as a mom and pursuing your passions outside of motherhood
The problem with the "I'm a Mom first" mentality
Why it's important to look for happiness and success outside of your children
Allowing your kids to look outside of you for comfort and fulfillment (when they're ready)
For Moms who have no idea where to start
****************************************
MORE ABOUT MY GUEST
Allyson A. Robinson began her journey as a singer enrolled in a graduate-level vocal performance program before she lost her voice and was forced to get in touch with her true purpose. She says, once she was able to focus on God's voice instead of her own, she was able to embrace her calling as a youth minister. Today, as an author, host of the Hey Girl! It's Allyson podcast, and motivational speaker, she uses her platform to inspire and empower other women to be their true, unique selves. All while raising her four year old twin girls at home. She's right there in the trenches working on being present with her babies while honoring her purpose to help and inspire the rest of us, and she shares some incredibly helpful gems in today's episode.
****************************************
CONNECT WITH ALLYSON
Hey, Girl! It's Allyson Podcast
@heygirl_itsallyson on Facebook & Instagram
*****************************************
CONNECT WITH ME
All things lifestyle & family, plus tons of Black owned business features and round-ups! www.AllDayBritney.com
Instagram: @itsbritney24
Facebook: All Day Britney
YouTube: All Day Britney
**Want more Black owned business reviews and recommendations from customers just like you? Join our Black Owned Spotlight community**
Did you enjoy this episode of TRIBE Culture LIFE? If so, I would really appreciate a rating and review(: And feel free to come find me through any of my socials listed above and tell me your favorite parts!
Where Else Can You Listen To TRIBE Culture LIFE?
Apple| Spotify | Amazon | Google Podcasts| TRIBE Culture LIFE
Need more TRIBE Culture Life? Hit that SUBSCRIBE button or join my tribe below!