SPOILER ALERT: Lisa Scales is actually my Mama(: I figured she would be the best person to chat with about how to start an Etsy shop, since I've watched her build a robust business on Etsy selling handcrafted, unique gifts for several years. When the pandemic started last year, I saw her pivot and adapt as necessary to continue serving her customer and I admired her perseverance. So I, of course, wanted to feature her shop, Lisa's Maker Space, for February's Black owned business of the month and pick her brain about how she's managed to thrive in her chosen market.
Both her and my younger sister own Etsy shops and, just about every morning, we have virtual strategy sessions, so this interview was basically an extension of those chats! Consider it your "behind-the-scenes" peek. I also want to add that if you've ever considered starting an Etsy shop, this episode is definitely the one to listen to! We discuss Lisa's experience starting her business on Etsy, the pros and cons of selling on Etsy, and the specific actions she's taken to be successful. She's spilling all the tea this week, so definitely check it out!
**More info on our sponsor, Lisa's Maker Space, HERE. Use code ALLDAY for your free gift!**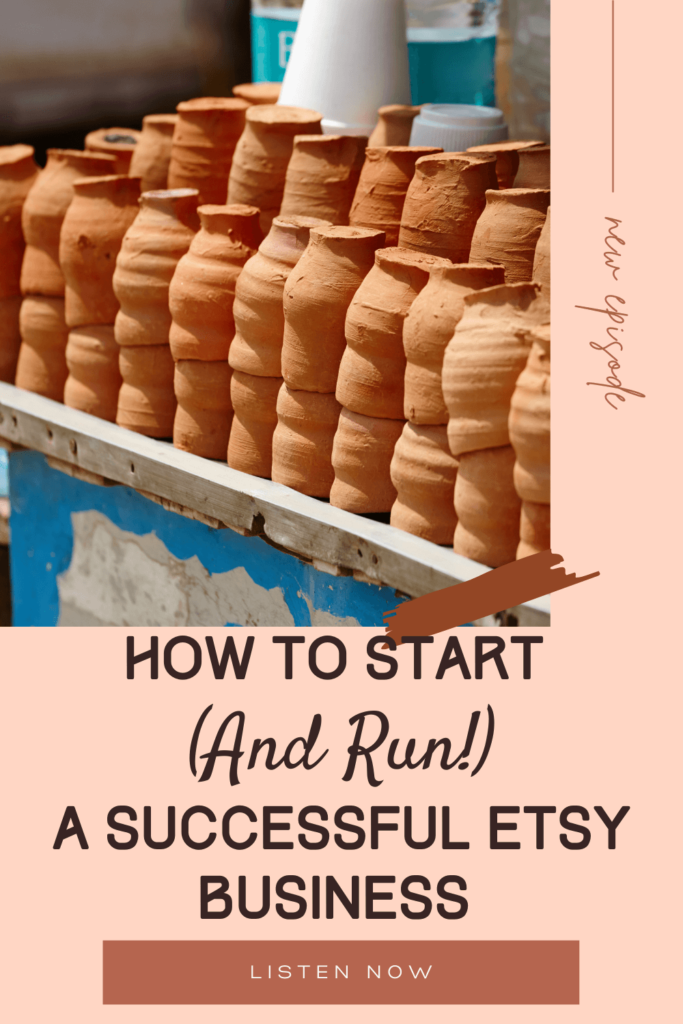 IN THIS EPISODE, WE DISCUSS
Why handmade?
How to decide if your passion project is worth monetizing
Lisa's decision to focus mainly on gifts and novelty items featuring Black images
Collaborating with up and coming Black artists
Staying unique and ahead-of-the-curve in a somewhat crowded market
How to start (and run) an Etsy shop
The pros and cons of selling on Etsy
Niching down and finding your customer
Designing, creating, and shipping in-house
What to expect when shopping with a small business
Remember to shout out your small business purchases!
****************************************
MORE ABOUT MY GUEST
Lisa Scales is the owner of Lisa's Maker Space, a Black owned Etsy shop that specializes in handcrafted, unique, and fun gifts featuring vibrant, artsy images with Brown skin. Lisa has always had an affinity for creating and designing and after making her own freebies during her time as a successful real estate agent, she decided to open her own Etsy shop. With a combination of faith, determination, and a willingness to learn, Lisa figured figured out how to start an Etsy shop, and the rest is history!
Today, Lisa's Maker Space carries culturally minded gifts including puzzles, coffee mugs, metal and ceramic prints, and even At Home Sip and Paint kits. Whether you're shopping for birthdays, holidays, or just-because, Lisa's Maker Space carries a little something for everyone.
*****************************************
CONNECT WITH LISA
www.LisasMakerSpace.com (use code ALLDAY for free gift with purchase!)
Facebook: Lisa's Maker Space
Instagram: @lisasmakerspace
CONNECT WITH ME
Instagram: @itsbritney24
Facebook: All Day Britney
YouTube: All Day Britney
If you enjoyed this episode, check out another profile I did with Nya Jones of Inside Then Out, and be sure to check out my Black Owned Business Of The Month tab on All Day Britney for previous features!
****************************************
BLACK OWNED BUSINESS OF THE MONTH INITIATIVE
I started the Black Owned Business of the Month feature as another way to highlight Black owned businesses and share them with my readers and listeners. It's so important to sow back into our community whenever possible, and it's equally important to shout out our businesses as loudly and as often as we shout out other brands and businesses. Check the Black Owned Business of the Month section each month for new features and profiles with both new and established Black businesses and brands!
If you are a Black business owner and would like to be featured, please send an email to [email protected]
**Want more Black owned business reviews and recommendations from customers just like you? Join our Black Owned Spotlight community**
*****************************************
All things lifestyle & family, plus tons of Black owned business features and round-ups! www.AllDayBritney.com
Did you enjoy this episode of TRIBE Culture LIFE? If so, I would really appreciate a rating and review(: And feel free to come find me through any of my socials listed above and tell me your favorite parts!
Where Else Can You Listen To TRIBE Culture LIFE?
Apple| Spotify | Amazon | Google Podcasts| TRIBE Culture LIFE
Need more TRIBE Culture Life? Hit that SUBSCRIBE button or join my tribe below!