In today's podcast episode, I'm chatting with Anitra Jackson of Chronicles of a Momtessorian about the meaning of Montessori and how to start Montessori at home and/ or in the classroom. If you're a homeschooling parent, teacher, or a parent who's just looking to switch things up a bit with your littles, this is an awesome episode to get tips and a better understanding of what Montessori means. FULL SHOWNOTES HERE
Disclosure
I only recommend products I would use myself and all opinions expressed here are our own. This post contains affiliate links from which I earn a commission, at no extra cost to you, when you make a purchase. Read more about it HERE
Around this time last year, I, like many parents, prepared for the possibility of homeschooling my oldest baby. She was due to start pre-school last year, but I didn't feel comfortable doing traditional schooling, so homeschool was our best bet. In my research, I stumbled across Montessori and was instantly intrigued. I've mentioned before how we're raising our babes to be independent and outspoken, and this seemed like the perfect way to encourage those traits. The tiny snag? There's sooo much info out their on Montessori; some of it was helpful, and some of it was confusing and downright conflicting. Enter Anitra and Chronicles of a Momtessorian. I knew she would be the perfect gal to chat about how to start incorporating Montessori concepts at home.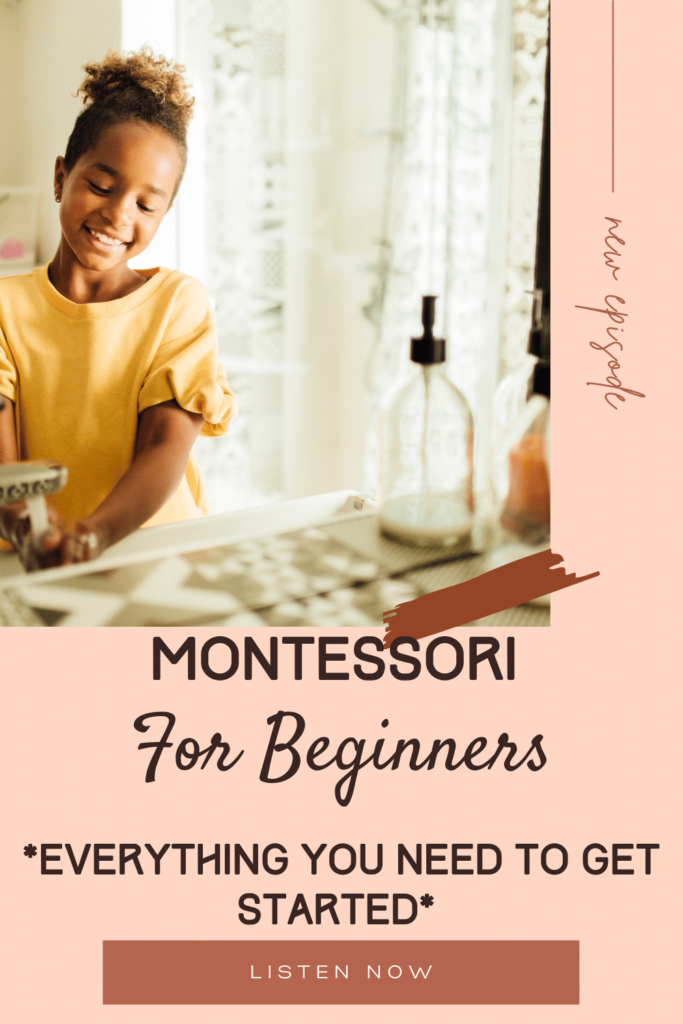 IN THIS EPISODE, WE DISCUSS
Montessori meaning
The Montessori "umbrella"
What can Montessori teach our kids?
How Chronicles of a Momtessorian has helped Anitra add her voice and perspective to the Montessori space
All of the basic materials you need for an authentic Montessori environment
Are Montessori "toys" a thing?
How to start Montessori at home
What do the naysayers say about Montessori?
The benefits of giving your kids freedom and space to figure some things out on their own
BONUS: Anitra's tried and true lesson to help kids stop interrupting
***************************************
MORE ABOUT MY GUEST
Anitra Jackson first began incorporating Montessori at home when her oldest child was just eighteen months. She fell in love with Montessori after observing a Montessori class in action. Anitra was inspired by the students as they worked peacefully, some independently and some with their teacher, and decided to incorporate the concepts at home with her own children. Today, Anitra is a certified Montessori Educator of 19 years and the creator of Chronicles of a Momtessorian, an all-encompassing lifestyle blog with tons of helpful resources, activities, and info for Montessori parents and educators.
**************************************
CONNECT WITH ANITRA
Twitter: @themomtessorian
Facebook: Chronicles of a Momtessorian
CONNECT WITH ME
All things lifestyle & family, plus tons of Black owned business features and round-ups! www.AllDayBritney.com
Instagram: @itsbritney24
Facebook: All Day Britney
YouTube: All Day Britney
**Want more Black owned business reviews and recommendations from customers just like you? Join our Black Owned Spotlight community**
*****************************************
RESOURCES
Melanin Moms Montessori (Facebook Community)
Did you enjoy this episode of TRIBE Culture LIFE? If so, I would really appreciate a rating and review(: And feel free to come find me through any of my socials listed above and tell me your favorite parts!
Where Else Can You Listen To TRIBE Culture LIFE?
Apple| Spotify | Amazon | Google Podcasts| TRIBE Culture LIFE
Need more TRIBE Culture LIFE? Hit that subscribe button or join my tribe below!