Giving What It's Supposed To Give: Black Owned Plus Size Clothing That Flatters & Inspires
USE CODE ALLDAY TO SAVE 15% ON YOUR SANTE GRACE PURCHASE
Today's episode brought to you by my 2021 Black Owned Business Gift Guide!
November's Black Owned Business of the Month is Black owned plus size clothing brand, Sante Grace! I chatted with owner and designer, Tracy Christian, about the challenges she has overcome since launching Sante Grace last year at the height of the pandemic and how she basically created her own blueprint for quality, designer-inspired plus size clothing. FULL SHOWNOTES HERE
As you'll hear Tracy mention, one of the biggest pitfalls of the fashion industry is that it is inherently designed to make women feel less than, as if there's some part of their body that they need to fix in order to be able to rock the latest trend. But one of the amazing things that sets Sante Grace apart, is that Tracy creates beautiful clothing to make you feel good RIGHT NOW, not after Spanx, and not 5-10 pounds from now. I was so inspired by my chat with Tracy and I know you will be too. Enjoy!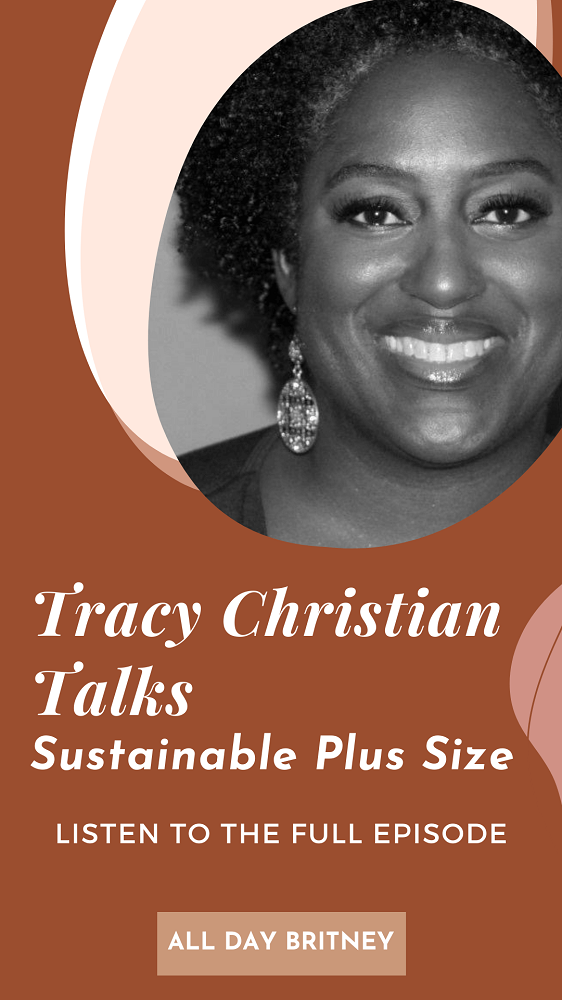 DISCLOSURE: I only recommend products I would use myself and all opinions expressed here are our own. This post contains affiliate links from which I earn a commission, at no extra cost to you, when you make a purchase. Read more about it HERE.
In This Episode Of TRIBE Culture LIFE
What inspired Tracy to create and launch Sante Grace
Challenges she has faced since launching her brand
The lack of quality, sustainable clothing options for plus size women
Tracy's passion for creating clothing that flatters and inspires rather than "just fits"
Day in the life of a clothing designer
Why she's committed to paying her contractors a fair wage
Tracy's tips for updating your plus size wardrobe
Top picks from Sante Grace (shop below)
Tracy's Picks
Haute Carine Pussybow Silk Chiffon Top
Something The Lord Made Two Piece Terry Cloth Set
USE CODE ALLDAY TO SAVE 15% ON YOUR SANTE GRACE PURCHASE
MORE ABOUT TRACY CHRISTIAN
You may already by familiar with Tracy Christian. Based in Los Angles, California, she runs a successful licensed talent agent, TCA Mgmt, and her past clients include Octavia Spencer, Mo'Nique, and Elizabeth Moss. As you can imagine, Tracy's career requires her to dress up fairly often. When Tracy repeatedly ran into issues finding stylish, elegant plus size pieces, she would often go directly to her seamstress to have a piece created for herself. She decided to do that on a larger scale, and Sante Grace was born.
As a whole, the fashion industry tends to fail plus size women who want quality, sustainable clothing. Sante Grace supplies that need with beautifully crafted styles that go to 4X. Tracy pieces are inspired by her own life and her favorite designers and they're designed with a unique and appreciative understanding of the female plus size body.
CONNECT WITH TRACY
Instagram: @santegrace
MORE ALL DAY BRITNEY
All things lifestyle & family, plus tons of Black owned business features and round-ups! www.AllDayBritney.com
Instagram: @itsbritney24
Facebook: All Day Britney
YouTube: All Day Britney
**Want more Black owned business reviews and recommendations from customers just like you? Join our Black Owned Spotlight community**
Did you enjoy this episode of TRIBE Culture LIFE? If so, I would really appreciate a rating and review(: And feel free to come find me through any of my socials listed above and tell me your favorite parts!
WHERE ELSE CAN YOU LISTEN TO TRIBE CULTURE LIFE?
Apple | Spotify | Amazon | Google Podcasts | TRIBE Culture LIFE
If you loved this episode, check out my recent chat with Etsy shop owner Lisa Scales, on her passion for gifts and novelty items with images that look like us.
Need more TRIBE Culture Life? Hit that SUBSCRIBE button or join my tribe below!